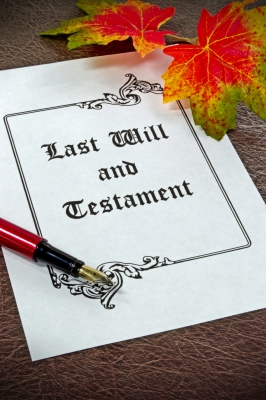 Probate is the system you go through if you are handling the estate of someone who has died. It gives you the legal right to distribute the estate according to the deceased's wishes. If the deceased left a will, it usually names one or more 'executors' who can apply for the grant of probate. If he or she doesn't want to act, someone else named on the will can apply. This person is called 'the administrator' and he or she can apply for a grant of 'letters of administration with will'. If there is no will, a blood relative can apply for a grant of 'letters of administration'. This is based on a strict next of kin order of priority as defined in the 'rules of intestacy'.  He or she is also called 'the administrator'. The catch-all term for a 'grant of probate', 'letters of administration with will' or 'letters of administration' is a grant of 'representation'. The catch-all term for an executor or administrator is 'personal representative'.
Government Help on Probate and Wills – The Government provides information about what to do legally when someone dies, whether the person has left a will or not. It also gives advice on joint property and bank accounts, applying for a grant of representation, inheriting property, inheritance tax, making a will and valuing the estate of someone who has died.
HM Revenue and Customs-Inheritance Tax and the Probate Process – covers Inheritance Tax, Inheritance Tax Thresholds and Gifts that are exempt from Inheritance Tax. It also covers how to fund an Inheritance Tax payment and details the forms that are required to be completed as well as providing a Probate and Inheritance Tax helpline.
Probate Service – provides information regarding Probate and the Probate Service, a part of the Family Division of the High Court. It gives details of all the Probate Registries nationwide and provides a Courtfinder Service. It warns against Probate Scams.
Bona Vacantia Division of the Treasury Solicitor's Department – 'Bona Vacantia' is the legal name for ownerless property that passes to the Crown. The Division administers the estates of persons who die without making a will and without known kin, and collects the assets of dissolved companies and failed trusts. The website has details of unclaimed estates and explains how to make a claim as a relative of a deceased person with an unclaimed estate.
Law Society – provides information about the Probate procedure, how long the process is likely to take and the costs involved as well as explaining legal terms. It provides a search method for finding a solicitor practicing wills and probate law in any given area.
The Association of Contentious Trust and Probate Specialists (ACTAPS) – ACTAPS is an association for lawyers specialising in contentious trust and probate work. It aims to provide a forum for specialists to exchange experience, know-how and an appreciation of the law and statutes in this specialist area. It holds seminars, conferences and meetings for the discussion of contentious trust and probate issues as well as providing education, training and representation to the appropriate governmental and judicial bodies.
The Wilkes Partnership is the leading Midlands firm for contentious Probate and Trust work. It also has specialist wills and tax planning services
The Institute of Legacy Management (ILM) – This professional body represents charities and other organisations which  receive bequests, and individuals involved in managing legacy income. It provides support services, training and consultancy. It also represents the needs of its members to governments, regulators and the public. The website has a downloadable booklet offering help and advice to executors where a registered charity is named as a beneficiary.
Solicitors for the Elderly – is a national association of solicitors, barristers and legal executives who are concerned with improving the availability and delivery of legal services to older people. The site contains a list of member solicitors, arranged by town or area, and also a very good set of links to other bodies concerned with elderly people and the law, benefits, health, illness, disability, wills and so on.
Certainty National Will Register – allows anyone to register their will online without charge. You can also search the register (the contents of the will are not given, but the fact that the will exists, and where it is, is provided). Endorsed by Kevin Martin, a past Law Society President, the Register has been built to eradicate the real possibility of a will being lost, destroyed or stolen. Note that only wills prepared by qualified and regulated professionals (Law Society, ILEX, Notaries) may be registered. You can also use the site to find a solicitor specialising in wills, in your area.